Welcome to alternative myotherapy
About alternative myotherapy
Ali has worked in natural therapies for over 10 years, specialising in Myotherapy and Remedial Massage. Ali takes a holistic approach to his treatment with a focus on muscle balance and strengthening. Treatment with Ali begins at the clinic in Brunswick and will see you through with the tools to carry on beyond treatment. Ali's clients range from sports, corporate and trades professionals, all with unique treatment needs.
Specialising in all aspects of therapy, Ali enjoys helping people with their well being. He is a young, fit, professional, who played elite football for most of his youth and early adult years and enjoys working out at the gym.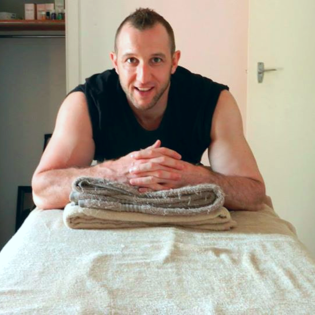 Myotherapy Clinic in the Heart of Brunswick
Myotherapy is a form of physical therapy which focuses on assessment, treatment and rehabilitation of the musculoskeletal pain and allied pathologies that cause muscular dysfunction. These ailments may cause pain affecting movement and mobility in your everyday activities or specific exercises that you do. Myotherapy Treatment relieves pain by applying pressure at the trigger points (hypersensitive places in muscles) of the affected areas.
Alternative Myotherapy is a therapy and rehabilitation clinic in the Coburg / Brunswick area where Ali – a Myotherapist from Melbourne with hands-on experience of over 10 years, provides Myotherapy and related massage therapies in Brunswick, Melbourne.